Does Your Organization Know How To Drive Innovation Successfully?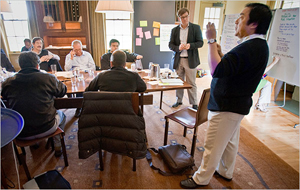 "This was one of the most productive workshops I've attended. I walked away with a framework for introducing a systematic approach to innovation in my organization."
Manufacturers Alliance for Productivity and Innovation

Imagine the productivity and innovation ideas your organization could set in motion after 2 days with JOHN KAO—the man The Economist dubbed "Mr. Creativity."
John Kao has delivered strategic innovation programs with clients as diverse as:
- Nike (supply chain strategy)
- Intel (diversification into new opportunity spaces)
- Government of Finland (national innovation strategy)
- Leading Trade Organizations
Kao's master class programs allow for deeper investigation into an issue of strategic significance to your organization such as a strategy question, a product development issue, or building a successful innovation agenda for your organization..
In order to create an effective and customized agenda for your master class, John will conduct 2 pre-event conference calls to better understand the issues your company is facing and prepare a customized solutions-oriented program for your specific challenges and required outcomes. He does the breakout sessions, facilitates the workshops, mini-presentations and exercises to your group of 10-40 executives. Larger groups can also be accommodated.
Half Day "Beyond the Keynote"

This 4-hour highly interactive session is aimed at priming the pump for an organization to take action around an innovation agenda.



Full Day "Master Class"

A one day, 8-hour work session that can launch the innovation process in a practical way for your organization.



2-Day "Deep Dive "


This interactive workshop that unfolds over 2 days will result in dramatic progress towards an aspirational goal. Experience shows that an evening's

pause between two daytime sessions is often the decisive factor in creating breakthroughs.
---
"On behalf of the Tech Pioneer, Social Entrepreneur, and Global Shaper Communities , I'd like to thank you for your fun and energetic
facilitaition of today's Dynamic Trio workspace."
World Economic Forum at Davos, Switzerland
---
For fee information and more details about how John Kao's Master Class will help your organization successfully grow your innovation startegy please call HWA at 646-227-4900.

The Harry Walker Agency, Inc. | 355 Lexington Avenue, Floor 21 | New York, NY 10017
www.harrywalker.com