Engaging New Presentation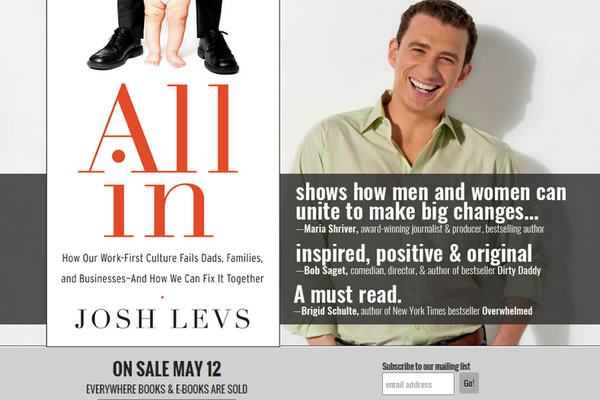 Josh Levs was already an internationally known,
Award-Winning Broadcast Journalist when he suddenly
found himself the nation's "poster boy" for paternity leave.
Facing an unfair policy, Levs took on one of the world's biggest corporations -- and won.
Now, businesses nationwide are learning from him: how best to serve employees and the bottom line by adapting to the new realities of modern families.
And individuals are learning that what Levs teaches in his popular keynote addresses is true: One person can achieve what many others consider impossible.
His book, All In, busts myths about men, women, and parenthood; exposes outdated structures, and lays the path forward through clear, simple steps. Coming May 12 from Harper Collins, it has been endorsed by Maria Shriver, Bob Saget, the head of Change.org, a Twitter vice president, talk show host Roland Martin, and author Brigid Schulte, who declared it a "must read."
Praise for Josh on Lecture Circuit
A born storyteller, Josh engages audiences with passion and insight:
"Josh Levs blew us all away!" -Global Purpose Summit
"Josh Levs is a dynamic, engaging speaker who is able to motivate his audience to challenge themselves to think critically of the world around them and act. He had a tremendous impact upon our 7-day leadership seminar, and our ambassadors continue to speak about his call to action. "
-HOBY World Leadership Conference
"Josh Levs' presentation is one part TED, one part 60 Minutes and one part Sports Center. He is the ideal voice for audiences interested in changing themselves so that they may change the world."
-Hampden-Sydney College
---
For more information about scheduling Josh Levs for an upcoming event, please contact HWA.
Call Us at 646-227-4900 or EMAIL US .

The Harry Walker Agency, Inc. | 355 Lexington Avenue, Floor 21 | New York, NY 10017
www.harrywalker.com