Economist Larry Summers: "Economic theories do not just describe the world—they can change it."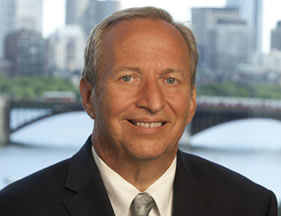 Former Secretary of the Treasury, Director of the White House National Economic Council and Assistant to the President for Economic Policy in the Obama Administration, Larry Summers is one of the world's most distinguished voices on the modern economy.
A speaker whose insights are demanded by audiences around the world, Summers is speaking at the legendary SALT Conference this week, where he will address nearly 1,000 of the world's most influential policy makers and financial executives.
This morning, he spoke live from the conference with Maria Bartiromo on Fox Business. He also recently offered his candid thoughts on NPR's Innovation Hub, where he discussed America's education system, funding for science and women in the technology fields. Read the fascinating interview here.
Rave Reviews
"Larry was great and delivered exactly what we wanted from him. He is a professional and he comes across very authoritative and thoughtful."-BCA Research
"Opening the conference with a high level discussion of the current economic climate really set the tone for the discussions to follow. We received very positive feedback from our attendees on the quality and insightfulness of your conversation ... It was a privilege to work with you." -Pension Real Estate Association
"Dr. Summers was an unexpected delight. Honestly, he was a joy on-site and he did a great job. He was really gracious and everyone loved him. I should have scheduled more time for his keynote; usually speakers fatigue after an hour but he definitely could have kept this audience captivated for much longer." -Institutional Investor

The Harry Walker Agency, Inc. | 355 Lexington Avenue, Floor 21 | New York, NY 10017
www.harrywalker.com