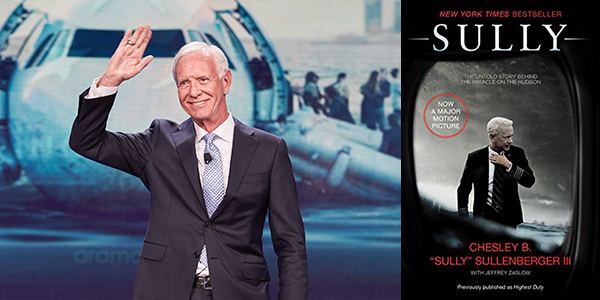 Famed "Miracle on the Hudson" Captain "Sully" Sullenberger and his wife Lorrie accompanied Oscar-winning actor Tom Hanks and his wife Rita Wilson at the 22nd Annual Critics' Choice Awards. SULLY, the movie in which Hanks portrays Sullenberger and the famous landing of US Airways Flight 1549 on the Hudson River, was nominated for four Critics' Choice Awards, including Best Picture and Best Actor.
Off the red carpet, Sully has been dazzling audiences at a range of speaking events."Engaging," "powerful," "authentic," and "knocked it out of the park," are just a few examples of the effusive praise pouring in for Sully as he empowers audiences with his messages about leadership, preparedness and rising to the occasion. Most recently, Sully engaged attendees at the Recreation Vehicle Industry Association's National RV Trade Show to great acclaim: "Capt. Sully did a tremendous job addressing the nearly 1,300 attendees at our industry's Outlook breakfast…Everyone was talking about his presentation."
Award-winning author, journalist, radio and TV personality

Stephen Dubner

recently wowed a crowd at NBCUniversal, marking the second time the media conglomerate hosted the bestselling Freakonomics series co-author for an event. "He set the tone for our event while keeping our attendees engaged and motivated," NBCUniversal said. The Institute for International Research hailed Dubner as a "very powerful storyteller"

and

"a pleasure to work with all the way through,"

after he recently inspired an audience of over one-thousand top-level executives at The Market Research Event.
Dubner's hype and range of insight is only expanding. Did you know that pinball machines were illegal in New York City until 1976? Or that during the Great Depression, President Franklin Roosevelt enjoyed a nutritious meal that cost only 8 cents? You would if you caught Dubner's newly-launched, hit podcast: Tell Me Something I Don't Know. Part fast-paced game show, part razor-sharp talk show, The Guardian lauded TMSIDK as the "essential new inside-out gameshow" that "will make you smarter and make you laugh." Produced in partnership with The New York Times, TMSIDK debuted at Number 1 on the iTunes podcast chart and shows no signs of slowing down—Season 2 began taping in New York in December 2016.
Coca-Cola, Kraft, and Great-West Life have all hosted

Adam Braun

, New York Times and Wall Street Journal bestselling author of The Promise of a Pencil, and praised him as, "The best speaker I've ever seen in the history of our company's offsite events."

(Coca-Cola HBC)

"The feeling was unanimous, the best speaker we've ever had at an offsite."

(Kraft Brands); "We all agreed that he is someone to watch over the next few years."

(Great-West Life)
New year, new mission! Braun is launching his next project—MissionU—"a college alternative for the 21st century," as Braun described in our HWA Chats series. A response to the crippling debt most students face as they embark on a traditional college experience, and the new and innovative soft skills employers are seeking in their workforce, MissionU is set to revolutionize both the academic landscape and the next generation.