Expert on the Sharing Economy
Joins The Harry Walker Agency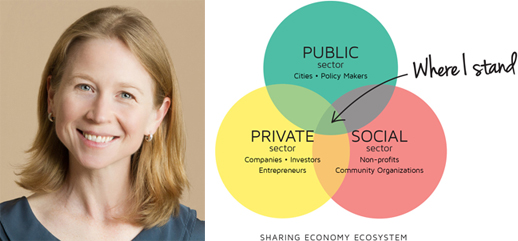 If you have ever used Uber or Airbnb, you have participated in the sharing economy. What makes those two companies successful is the evolving sharing economy which is changing the way we travel, work, finance, and manage our assets.
April Rinne is a thought leader and international advisor in the sharing economy. She builds strategy, guides conversations and tackles the key questions with a wide range of stakeholders, from companies to governments, policy makers, investors, associations, educational institutions and non-profits. Watch her keynote at ITB Berlin about the sharing economy and her talk on rethinking urban planning and sustainable growth at OUIShare Fest 2014.
She has advised Fortune 500 companies on business model innovation, local and national governments on policy reform, and investors on portfolio strategy and execution. She also tackles broader issues related to technological innovation, such as effects on the workplace, quality of life, travel and emerging markets. April is a World Economic Forum Young Global Leader and is a driver of the global conversation on the changing economy.

April's Speeches
Takeaways from April's speeches include:
Audiences praise April not only for her research and leadership on the economy, but also for her engaging delivery and enthusiastic participation. April delights in the conversations, customizes each speech, and prepares with the meeting planner to make sure the takeaways are applied to each specific audience. Here is a sample of what audiences have to say:
"April's presentation was fantastic. She delivered a keynote as it should be: showing the big picture, addressing key issues, and doing so in a way that's enlightening and fun. Her knowledge of the sharing economy and its many facets—from travel and tourism, to cities and community and far beyond—is extraordinary. She set the stage for an excellent conference, and many participants commented that April's speech was the most interesting and useful of all. Thanks, April!" (ITB Berlin)
"Thanks so much to April for helping us kick off what most attendees are saying was the most engaging Sustainable Brands Conference yet. We heard again this year a deep appreciation from attendees for bringing a higher level of thinking to the table. You played a significant role in helping to set the tone this year by challenging our group to think from a different lens about the work we do and the rules by which we all operate. I'm confident your presentation had a real impact in upping the level of dialogue that took place throughout the week." (Sustainable Brands & Sustainable Life Media)
---

The Harry Walker Agency, Inc. | 355 Lexington Avenue, Floor 21 | New York, NY 10017
www.harrywalker.com