Renowned Economist and Public Policy Advisor
Joins The Harry Walker Agency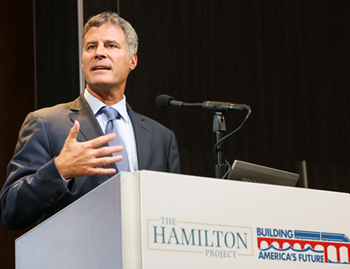 One of the nation's most-respected economists, Alan Krueger served as chairman of President Obama's Council of Economic Advisers (CEA) and is among the 50 highest-ranked economists in the world.
He has the rare ability to explain economics in plain English—and challenges audiences to rethink assumptions.
As one of the foremost experts on labor markets, wage growth, inequality and unemployment, Krueger examines the current U.S. recovery, future policy developments, risks and opportunities in the global economy, and the emerging sharing economy. View his featured speech on fair efficient rules for capitalism.
He joined the Obama administration in the midst of the financial crisis in February 2009 and helped develop and implement policies that put the country on a path toward recovery. He is the only economist to have served as Chief Economist of both the Department of the Treasury and Department of Labor.
Since 1987, he has held a joint appointment in the Economics Department and Woodrow Wilson School at Princeton University. Among his many honors, he was awarded the Kershaw Prize by the Association for Public Policy and Management in 1997 for the most significant contributions to public policy research by someone under age 40, elected a fellow of the American Academy of Arts & Sciences in 2002, and awarded the IZA Prize in Labor Economics in 2006.