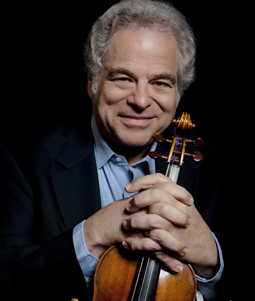 His Talks:
An Evening with Itzhak Perlman
For decades, Itzhak Perlman has been inspiring audiences as the world's foremost virtuoso violinist. In an engaging conversation, Perlman will share his experiences as one of the world's most beloved figures in classical music, and discuss how after decades of performing at the very highest level, he continues to find joy, passion, and excitement in music.
He will talk about how a life in music has allowed him to continue to grow, and why he chose to move into conducting and teaching. In a moderated question and answer session, Perlman will touch on a broad range of topics, from what defines genius to how he became a wine connoisseur. And he will use his violin to demonstrate the power of music to emotionally connect with an audience.
The Seattle Times said it best: "To call Itzhak Perlman a legend would be an understatement."
Since he first appeared on the Ed Sullivan Show at age 13, Itzhak Perlman has become arguably the most successful violinist in history. He has a shelf full of Grammys and Emmys. He's played with every major orchestra in the world. He's performed for kings and queens, and been on stages from Sesame Street to Pennsylvania Avenue. And he's had a front row seat to history, performing in Berlin the night before the wall fell, at the inauguration of President Obama, and at many other singular events on almost every continent.
While Perlman's technical skill places him in the company of the greats, what distinguishes him is the humanity he injects into his pieces. "For luxury of tone and visceral musicality," noted the New York Times, "there is probably no more talented violinist in the world than Itzhak Perlman." And for an engaging, stimulating, and enjoyable evening, there is no better speaker than Itzhak Perlman.
Known for his humor, charm, and wisdom, Itzhak Perlman now adds a fourth pillar to his life as a performer, teacher, and conductor: that of speaker. After a career spent performing, teaching, and conducting the world's greatest works all across the globe, Perlman now delights audiences with his rich and fascinating perspective on life. He brings ruminations on teaching philosophy, on the true nature of genius, on stories from the road and hobbies like sports and wine. He talks about what it means to be a teacher and his committed advocacy for those with disabilities. Above all, he is keen to share his contagious passion for music.
Watch Itzhak Perlman's videos here.