Bestselling Authors of Freakonomics to Release Much-Anticipated New Book in May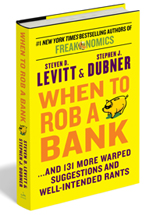 The authors of Freakonomics, SuperFreakonomics, and Think Like a Freak are back!
To mark the 10th anniversary of the bestseller that started it all—Freakonomics—Stephen Dubner and Steven Levitt are publishing When to Rob a Bank: ...And 131 More Warped Suggestions and Well-Intended Rants, a carefully curated collection of the best of the best Freakonomics.com blog posts. The book will be published on May 5, 2015.
Exceptional Speakers
With their dynamic storytelling abilities, Stephen Dubner and Steven Levitt have thrilled audiences around the world, from students to business executives. Their presentations seamlessly blend fascinating business insights with entertaining anecdotes.
"Stephen was amazing! He's such a personable guy and fit in with our team immediately. He can easily read the audience and change focus as needed. His stories were entertaining, relevant and truly resonated with our team. We wanted him to stay all day! ... He truly was the perfect fit for us and kicked off our summit with a bang!" -Blue Man Group
"We have had a lot of noteworthy speakers through the years at our conference; however, I have to tell you that Steven Levitt was by far the best speaker we have had so far. He was hysterical…he has such a funny sense of humor but mixed with great Business Acumen. Our clients loved him as did our Chairman." -RIA Custodian Firm
---

The Harry Walker Agency, Inc. | 355 Lexington Avenue, Floor 21 | New York, NY 10017
www.harrywalker.com